Few news stories bother me, but the duck boat accident at Table Rock Lake on Thursday has been on my mind for a lot of reasons. The primary reason is that this accident was totally preventable. Before we dive into the data, let me make it clear that the intent of this blog isn't to cast stones but rather to provide the facts.
Late Thursday morning, NOAA's Storm Prediction Center issued a Severe Thunderstorm Watch for western and central Missouri until 9pm that evening. This watch included the Branson area. Here is the text of the watch. I am boldfacing a few things in the text to make a few points.
  URGENT - IMMEDIATE BROADCAST REQUESTED
   Severe Thunderstorm Watch Number 283
   NWS Storm Prediction Center Norman OK
   1120 AM CDT Thu Jul 19 2018

   The NWS Storm Prediction Center has issued a

   * Severe Thunderstorm Watch for portions of 
     Western and Central Missouri

   * Effective this Thursday morning and evening from 1120 AM until
     900 PM CDT.

   * Primary threats include...
     Widespread damaging winds likely with isolated significant gusts
       to 75 mph possible
     Scattered large hail likely with isolated very large hail events
       to 2.5 inches in diameter possible
     A tornado or two possible

   SUMMARY...An increasingly organized convective cluster across
   central Missouri should continue to intensify and gradually
   accelerate east/southeastward through the afternoon. Meanwhile,
   additional storm development should occur on its western flank
   and/or move into Missouri out of Kansas later this
   afternoon/evening. Corridors of damaging winds/large can be expected
   and a tornado cannot be entirely ruled out.

   The severe thunderstorm watch area is approximately along and 75
   statute miles east and west of a line from 50 miles north northeast
   of Knob Noster MO to 50 miles south southeast of Springfield MO. For
   a complete depiction of the watch see the associated watch outline
   update (WOUS64 KWNS WOU3).

   PRECAUTIONARY/PREPAREDNESS ACTIONS...

   REMEMBER...A Severe Thunderstorm Watch means conditions are
   favorable for severe thunderstorms in and close to the watch area.
   Persons in these areas should be on the lookout for threatening
   weather conditions and listen for later statements and possible
   warnings. Severe thunderstorms can and occasionally do produce
   tornadoes.

   &&

   AVIATION...A few severe thunderstorms with hail surface and aloft to
   2.5 inches. Extreme turbulence and surface wind gusts to 65 knots. A
   few cumulonimbi with maximum tops to 600. Mean storm motion vector
   31030.
Note the time the watch was issued and where it was issued for. The watch was issued almost 8 hours before the incident happened and specifically mentioned the potential for damaging winds. The watch also included the Branson area as can be seen by in the map below.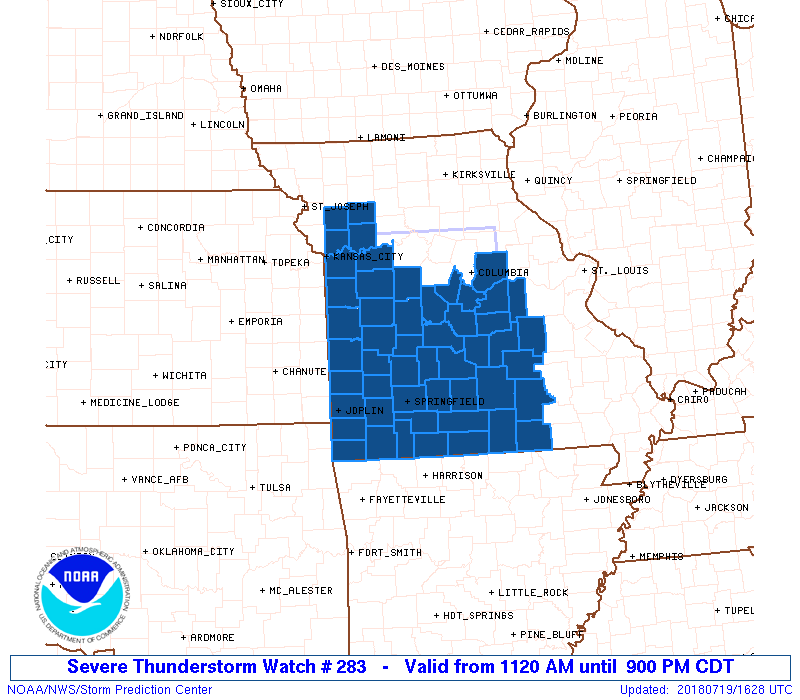 Around 6:30 that evening, a severe thunderstorm warning was issued, specifically mentioning the potential for damaging winds. Here's the text of the warning. Note that it specifically mentions Branson.
624
WUUS53 KSGF 192332
SVRSGF
MOC009-209-213-200030-
/O.NEW.KSGF.SV.W.0243.180719T2332Z-180720T0030Z/

BULLETIN - IMMEDIATE BROADCAST REQUESTED
Severe Thunderstorm Warning
National Weather Service Springfield MO
632 PM CDT THU JUL 19 2018

The National Weather Service in Springfield has issued a

* Severe Thunderstorm Warning for...
Taney County in southwestern Missouri...
Stone County in southwestern Missouri...
Barry County in southwestern Missouri...

* Until 730 PM CDT.

* At 631 PM CDT, severe thunderstorms were located along a line
extending from near Sparta to near Wheaton, moving southeast at 50
mph.

HAZARD...60 mph wind gusts.

SOURCE...Radar indicated.

IMPACT...Expect damage to roofs, siding, and trees.

* Locations impacted include...
Branson... Lake Taneycomo...
Table Rock Lake... Bull Shoals Lake...
Roaring River State Park... Table Rock State Park...
Hollister... Cassville...
Silver Dollar City... Kimberling City...
Forsyth... Merriam Woods...
Shell Knob... Kissee Mills...
Purdy... Reeds Spring...
Seligman... Rockaway Beach...
Exeter... Wheaton...

PRECAUTIONARY/PREPAREDNESS ACTIONS...

For your protection move to an interior room on the lowest floor of a
building.

Torrential rainfall is occurring with these storms, and may lead to
flash flooding. Do not drive your vehicle through flooded roadways.

&&

LAT...LON 3650 9407 3682 9406 3680 9277 3650 9277
TIME...MOT...LOC 2331Z 316DEG 43KT 3706 9307 3679 9400

HAIL...<.75IN
WIND...60MPH

$$

Cramer
The warning was issued about half an hour before the accident and specifically mentioned the potential for damaging winds, Branson, and Table Rock Lake. This was the radar image around 6:30pm Thursday evening.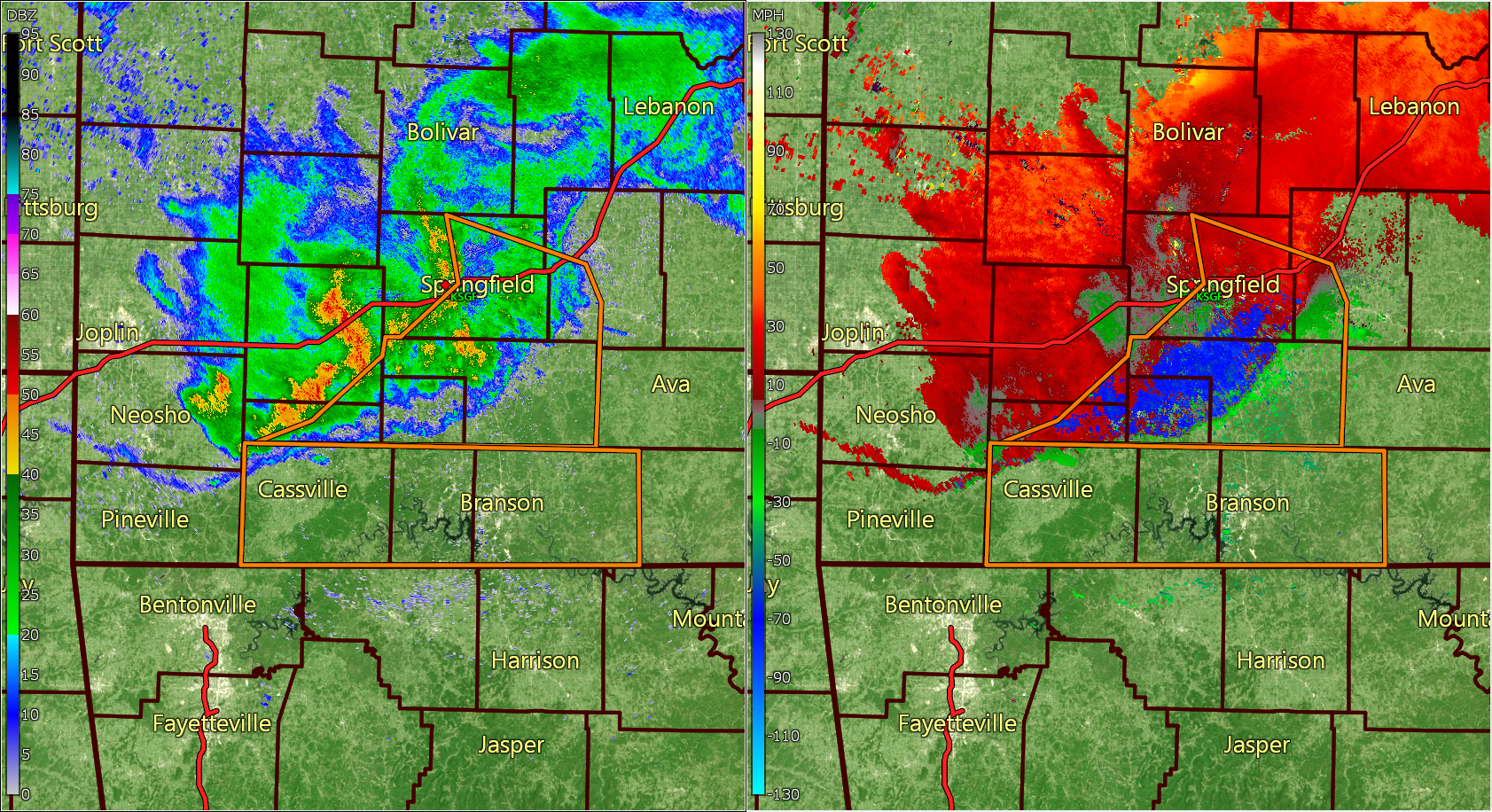 On the left, you see the reflectivity and on the right, you see the velocity. Note the thin blue line from southeast of Springfield to north of Cassville. This is the gust front. What's happening is the storm is starting to weaken and as it does, the air in the top of the storm is forced toward the ground. Because the air can't go through the ground, it spreads out when it reaches the ground, potentially damaging structures in its path. On the right side, you see the velocity. Red shades indicate winds blowing away from the radar whereas green and blue shades indicate winds blowing toward from the radar. The orange outlines are Severe Thunderstorm Warnings.
Here is the same image at 7:01pm.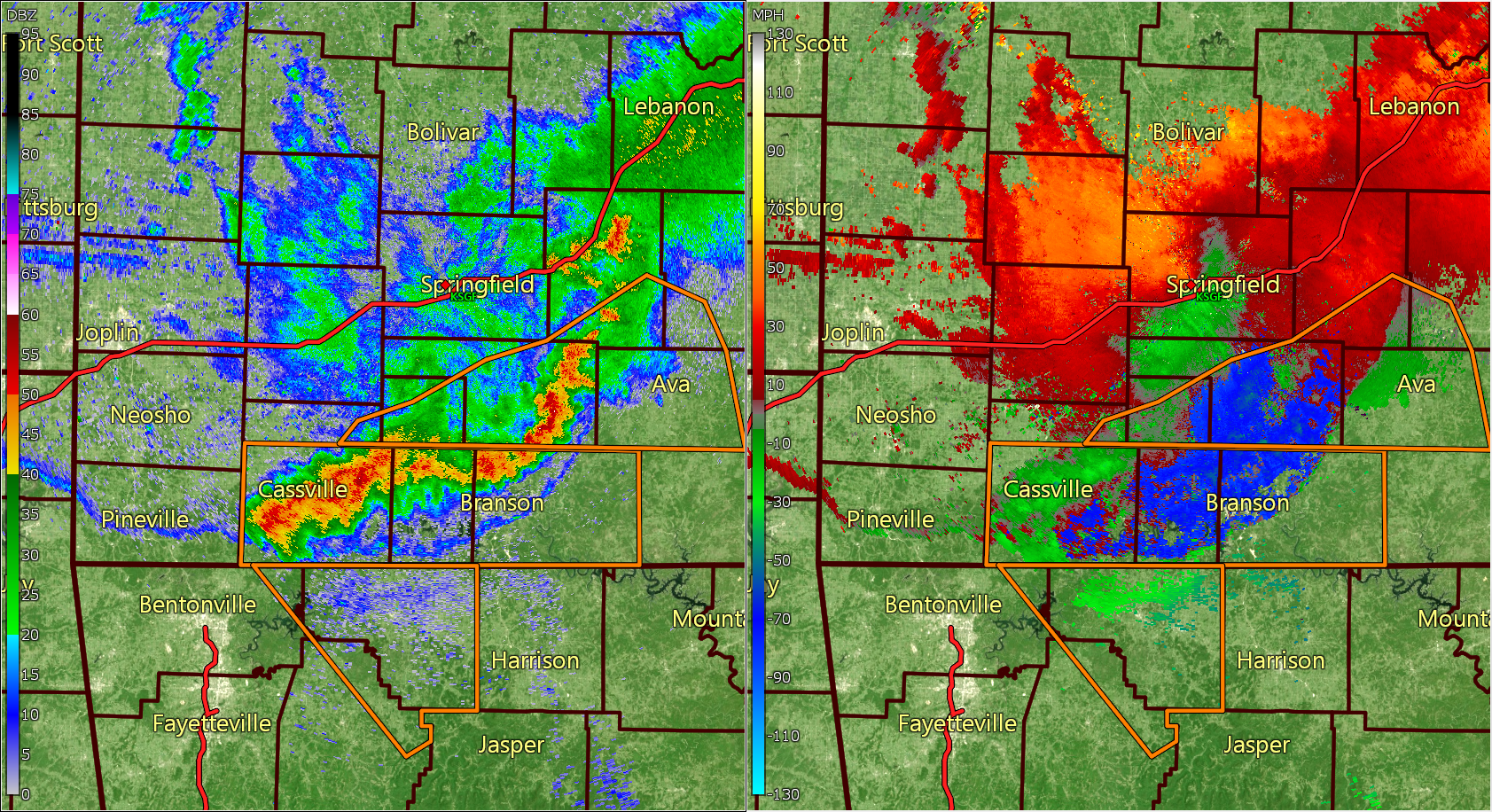 Note the gust front pushed through the Branson area with winds near 70 mph. This storm was very well warned for, providing nearly half an hour of lead time. This is a radar loop showing the storm approaching Branson. I showed the images above because I wanted to show the warnings that were in effect.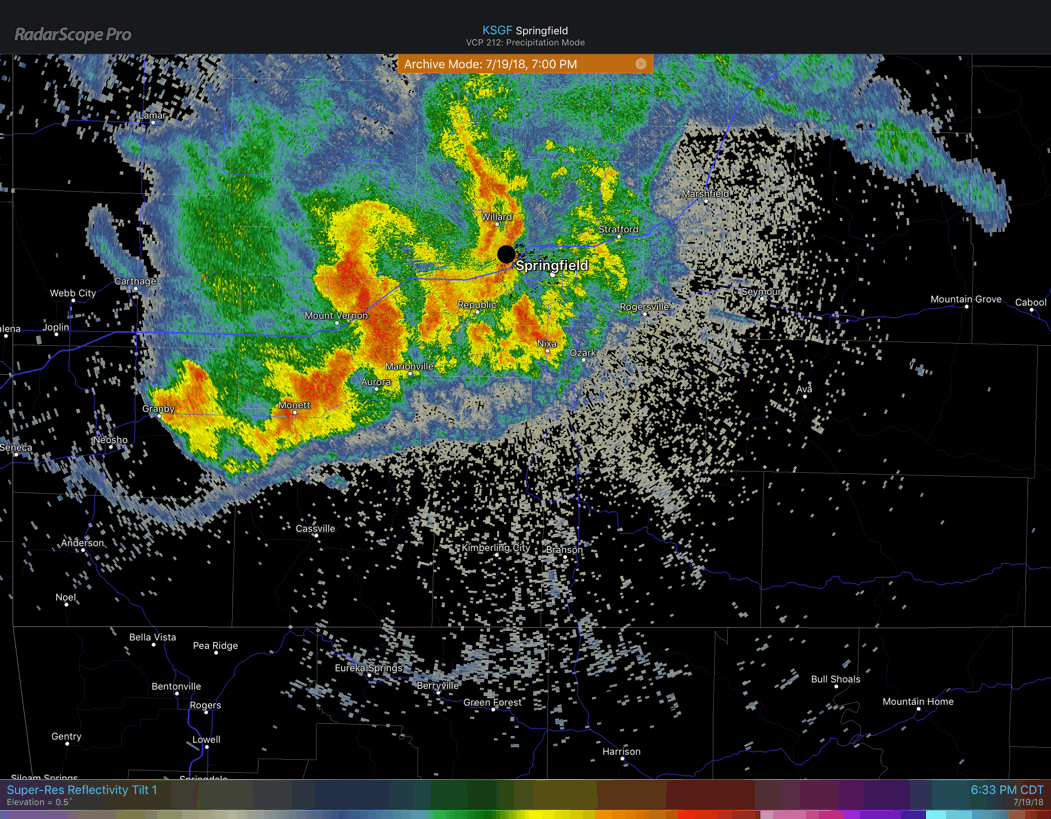 With all the technology available at our finger tips, there is no reason not to be prepared. Two apps that I use on my phone and tablet are RadarScope and Weather Radio from Weather Decision Technologies.
Before I close, I want to share a video from a close friend of mine, Bryan Busby, who shares his thoughts on what happened. Bryan is the Chief Meteorologist at KMBC Channel 9 in Kansas City.